The Best Meal Prep Software.
Tusted by hundreds of industry leading meal prep companies.
We offer the most robust feature set on the market, all while offering the most affordable plans and no hidden transaction fees!
Why Choose GoPrep?
GoPrep is an all-in-one meal prep software created for any Meal Preparation & Delivery business model.
Subscriptions
Customers can choose between a one time order or a subscription with the flip of a switch.
Label Printing
Easily print labels for all your meals and orders with a few clicks.
Nutrition Facts
Generate nutrition facts for your meals directly or simply by entering in ingredients.
Efficient Reporting
Never use Excel again. Print automatically generated reports for your operations.
SMS Messaging
Send bulk text alerts to your customers automatically or manually.
Gift Cards
Allow customers to purchase and send gift cards to their friends and family.
Referral Programs
Allow all of your customers to refer you to friends for cash back or store credit.
Promotions
Offer your customers coupons or promotions for spending a minimum amount.
Grow Your Business
Companies using GoPrep free up hours of time each week, and retain more customers, and make more money.
Watch the video the following video to see how GoPrep helped Chef Heber Rivera grow his business and improve his customer's experience.
Custom Menus
Your online menu is your virtual storefront for your customers. Our ordering system provides your customers with a sleek and modern design to represent your brand and fully showcase your menu.
Easily add your meals and assign them to a category to make browsing your menu seamless for your customers. Assign tags and allergies to allow your customers to filter through the menu and find the perfect meals for their plan.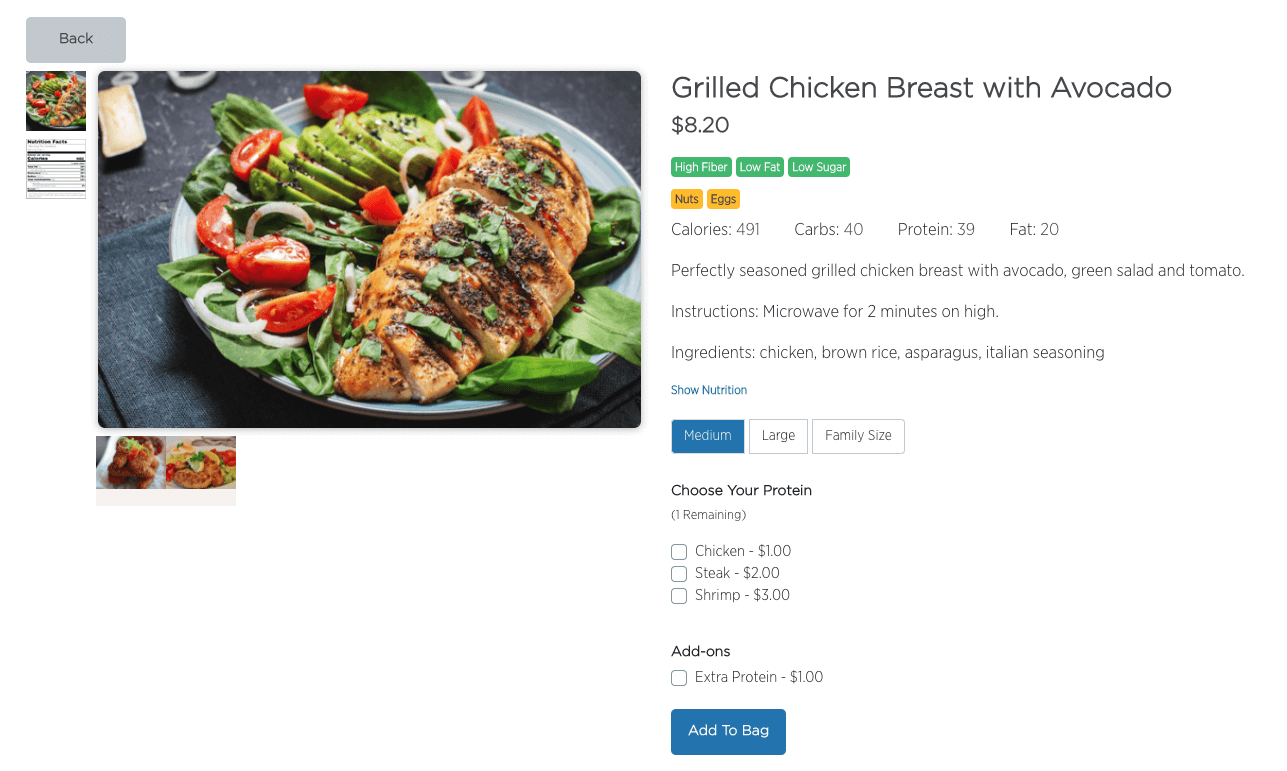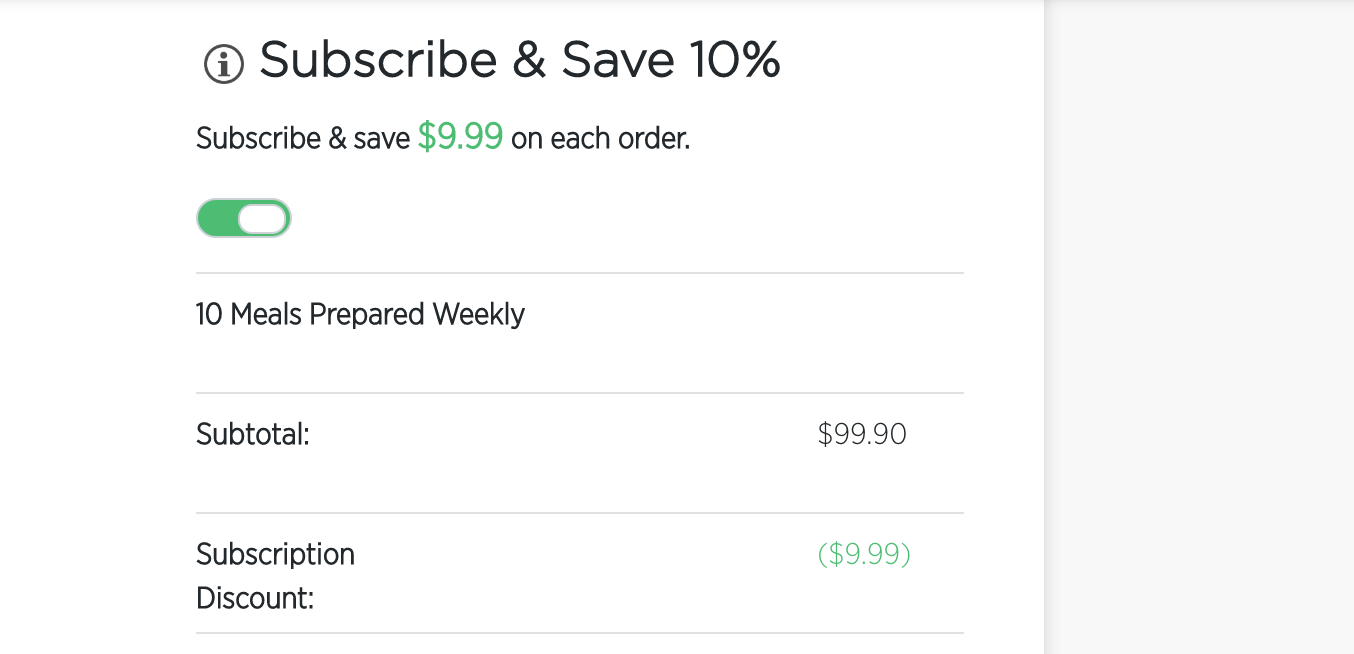 Easy Recurring Subscriptions
Subscriptions let your customers opt in for weekly or monthly subscriptions for an optional discount that allows them change their meals between renewals, all while your production reports are automatically updated. If you update your menu, you pick replacement meals and the customers are notified.
GoPrep is for New and Existing Businesses
Whether you are a brand new startup or a fully operating business, GoPrep offers the solutions to help you grow.
Essential Reporting
We know that managing your kitchen's production schedule is essential to your business.  Our custom reporting system was created with your business model in mind.
Our meal & ingredient Production Reports will provide your kitchen with the meals to prepare, while our Order Summary Reports make packaging and bagging your meals a breeze. Before delivery, print Packing Slips to insert in each individual bag, leaving your customer with an organized receipt of their purchase. If you deliver, our Delivery Route report gives you the quickest and most optimal route to take.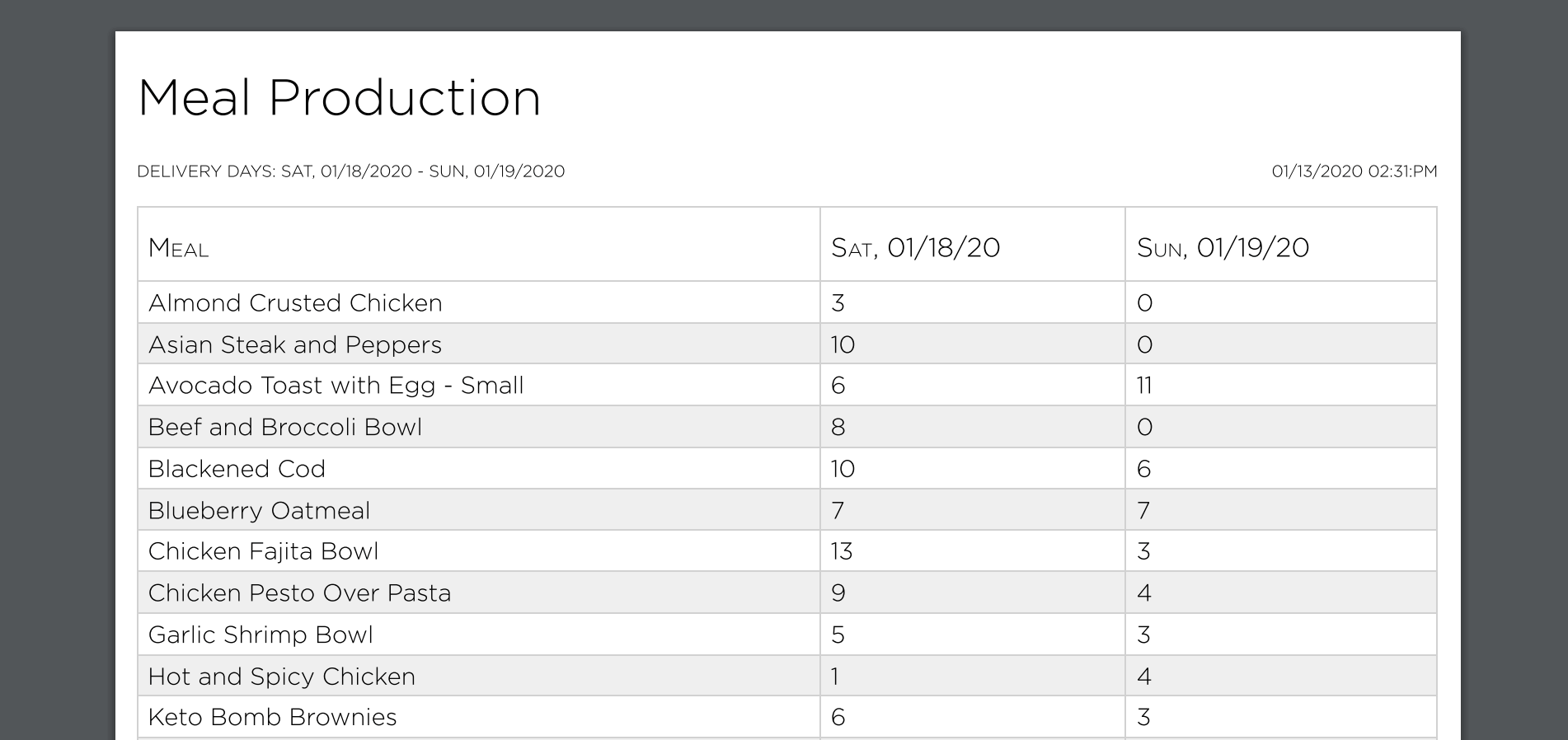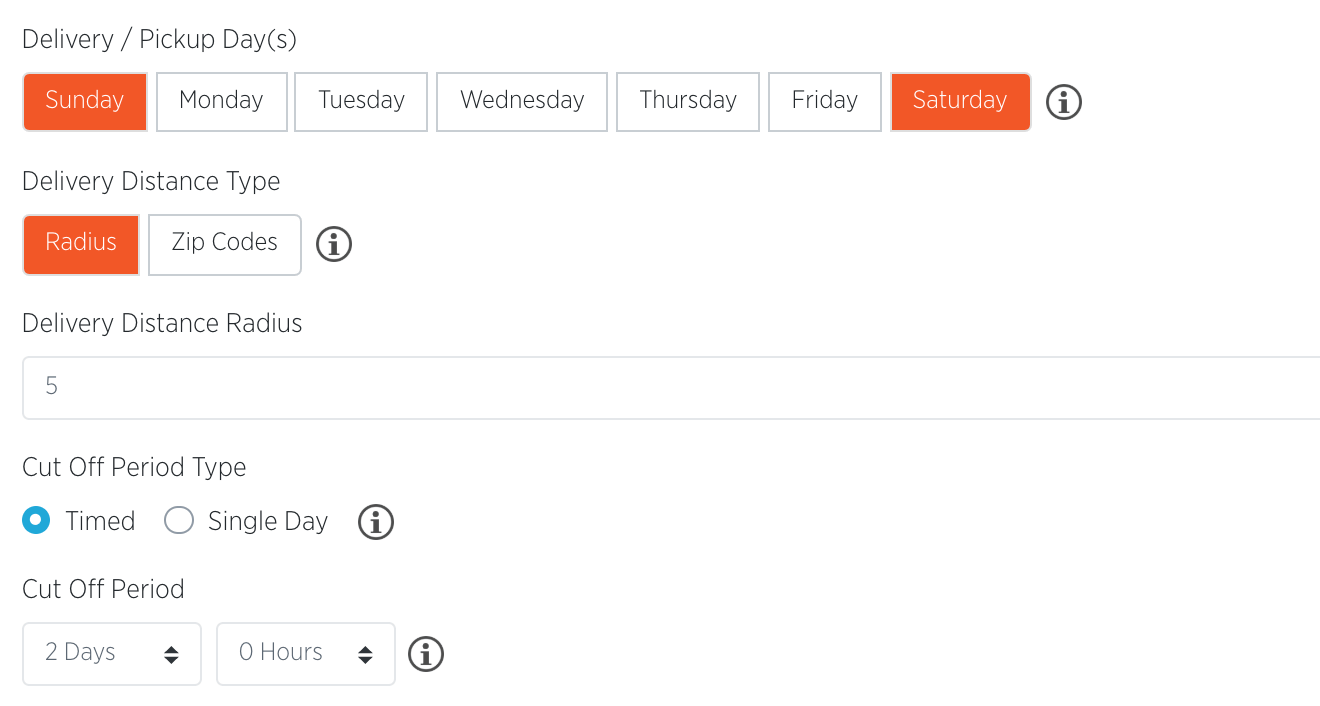 Tailored to Your Business
We know that each Meal Prep & Catering company is unique. With our easy to navigate settings you can change your delivery or pickup days, set cut off periods for orders, add processing and delivery fees and more, all with a click.
Anytime you'd like, you can easily check your Payment & Financial Reports, or browse your Customer Reports to learn more about their purchases and trends.
Working with GoPrep was an easy decision for my supermarket.  Our catering operations are now completely organized and efficient. We just check out production sheets weekly and cook. All the hard work is done for us with a few clicks. It's a no brainer.

Livoti's Old World Market

My meal prep company is only about a year old and was growing so fast I couldn't keep track of all my orders. Before GoPrep I was taking orders via text message and writing my production reports by hand. Using GoPrep has changed my business for the better, I'm never looking back.

J's Meal Prep

These guys are legit. They have helped me grow my business. I've received a lot of good feedback from my customers. It's very easy to use, very easy to place and order, and very easy for you to set up and offer your menu and dishes. I totally recommend it.

Chef Heber
Meal Preparation Has Never Been This Simple.
Were You Offered A Lower Price By A Competitor? We Can Beat It.
Brand new startup or small operation?
Sign up and pay a 5% fee per transaction with no monthly cost.
Pricing Update:
Due to the unfortunate circumstances surrounding the coronavirus we have seen an increase in demand of our services for new meal prep companies.
In an effort to help the community the best we can we are now offering discounted rates as seen below. Stay healthy and safe!
Basic
Basic
Basic
Basic
Basic
$119 / mo
$

149 / mo
$99 / mo
$

119 / mo
$

149
/ month
$

149
/ month
$

149
/ month
Up to 100 Orders/mo

Up to 100 Orders/mo

50

50

50

Email Support + GoPrep Help Center

Email Support + GoPrep Help Center
Standard
Standard
Standard
Standard
Standard
$249 / mo
$

299 / mo
$199 / mo
$

239 / mo
$

349
/ month
$

349
/ month
$

349
/ month
Up to 300 Orders/mo

Up to 300 Orders/mo

150

150

150

Email Support + GoPrep Help Center

Email Support + GoPrep Help Center
Premium
Premium
Premium
Premium
Premium
$399 / mo
$

499 / mo
$339 / mo
$

399 / mo
$

549
/ month
$

549
/ month
$

549
/ month
Up to 600 Orders/mo

Up to 600 Orders/mo

300

300

300

Email Support + GoPrep Help Center

Email Support + GoPrep Help Center
Enterprise
Enterprise
Enterprise
Enterprise
Enterprise
$599 / mo
$

749 / mo
$499 / mo
$

599 / mo
$

749
/ month
$

749
/ month
$

749
/ month
Up to 1,000 Orders/mo

Up to 1,000 Orders/mo

500

500

500

Email Support + GoPrep Help Center + Account Manager

Email Support + GoPrep Help Center + Account Manager
Additional Features Include:
Auto Rotating Menus
Customer Surveys
Automated SMS Messaging
Label Printing
Add Customers Manually
Order Balances & Deposits
Separate Production Groups
Special Instructions for Meals
Add Non-Menu Items to Orders
Manage Order Notes
Split a Single Order into Multiple Delivery Days
Weekly/Monthly Subscriptions
Build Your Own Meal Capabilities
Affiliate Programs & Point Systems
Create Manual Orders
Accept Cash Orders
Preset & Selectable Meal Packages
Custom Email and Menu Branding
Set Pickup/Delivery Hours
Multiple Pickup Locations
UPS Integration
Custom Domain Masking
Templated WordPress Websites
Promotions and Lead Capturing
Holiday Menu Date Restrictions
Custom Sales Tax by Item
Subscription Only Store Option
Multiple Delivery Days in One Order
Add Custom Nutrition Facts
Multiple Menu Styles
Frequently Asked Questions
More than 500 orders per month?
Please contact us below for a custom price.